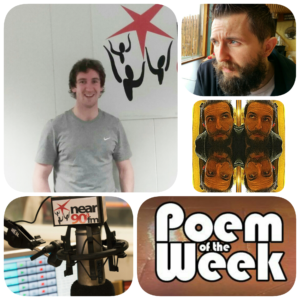 Declan Cahill,  Near FM stalwart, joined mA classic song by a classc voice, but too few Irish people know its roots. The poem was originally written by Paddy Kavangh in 1946 about his then girlfriend, Kerrywoman, Hilda Moriarty. The story goes, to hear Brendan Kenelly tell it, that Kavanagh cycled down to Dingle witha proposal of marriage for Hilda who rejected. Spurned and lovelorn, Kavanagh cycled back to dublin and true to an promise he made to HIlda early in their relationship, he "…immortalised her in poetry". Many years later, Luke Kelly was on the receiving end of a sharp elbow to the ribs. When he turned to face his assailant, Kelly was taken back to find the grizzled Monaghan poet gazing at him, who reportedly said, "Mr. Kelly, I have a song I'd like to give you".As the fella says, the rest is history.

Podcast: Play in new window | Download (Duration: 12:30 — 28.6MB)
Subscribe: Android | Google Podcasts | RSS
Poem of the Week invites you to listen to contributors recite some of their favorite poems and talk about what these poems mean to them. Presented by Morgan O'Reilly, this podcast series, originally broadcast on Near FM 2017/18, features some of Ireland's most exciting new voices such as Jessica Traynor, Kate Dempsey, Kenneth Nolan and Alan Jude Moore alongside local people and community activists from the North Dublin area, this series offers a unique and diverse range of contributors.
Each week the featured poem will also commemorate a significant date in the calendar year fostering new and challenging perspectives into poems you thought you knew. The poems have been selected with the advice and support of Ireland's former Professor of Poetry, Paula Meehan.