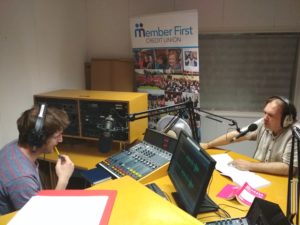 Reading his own work, poet, journalist, broadcaster and Near FM veteran Tomasz Wybranowski joined me in studio to celebrate Polish independence day. Celebrated alongside armistice day, for the Polish people, November 11th was the restoration of Poland's sovereignty as the Second Polish Republic in 1918 from the German, Austrian and Russian Empires. With over 100,00 Polish people living and working in Ireland, they make up one of the biggest non-national groups living here. What better way to extend the céad míle fáilte than to engage with their poetry!

Podcast: Play in new window | Download (Duration: 12:34 — 28.8MB)
Poem of the Week invites you to listen to contributors recite some of their favorite poems and talk about what these poems mean to them. Presented by Morgan O'Reilly, this podcast series, originally broadcast on Near FM 2017/18, features some of Ireland's most exciting new voices such as Jessica Traynor, Kate Dempsey, Kenneth Nolan and Alan Jude Moore alongside local people and community activists from the North Dublin area, this series offers a unique and diverse range of contributors.
Each week the featured poem will also commemorate a significant date in the calendar year fostering new and challenging perspectives into poems you thought you knew. The poems have been selected with the advice and support of Ireland's former Professor of Poetry, Paula Meehan.