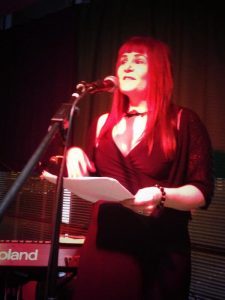 Poem of the Week S01 E14: Samhain by Rachel Hegarty, read by Jane O Sullivan
It's that time of year again; the pumpkins are being carved, the pallets are being stockpiled and mischief is being planned. Halloween is the highlight of the year for many, but there are those who don't see the attraction of the fireworks and the costumes and have to suffer the evening trick-or-treaters with a cantankerous fortitude. Whatever you're up to yourself this year, why not delve into a bit of Northside poetry from Finglas born and bred poet, Rachel Hegarty. Rachel is a really important new voice in the landscape of Irish poetry and Samhain is a wonderful poem where young love, Dublin in the rare auld times and HAlloween's Gaelic roots all coalesce. This week's poem is read by Jane O Sullivan from our neighbours in the northside civic centre, Community Law and Mediation, who have been doing Trojan work in the community for many years now. It's a real pleasure when we get to collaborate with them and Jane had some very interesting things herself to say about literature and poetry.

Podcast: Play in new window | Download (Duration: 11:37 — 26.6MB)
Poem of the Week invites you to listen to contributors recite some of their favorite poems and talk about what these poems mean to them. Presented by Morgan O'Reilly, this podcast series, originally broadcast on Near FM 2017/18, features some of Ireland's most exciting new voices such as Jessica Traynor, Kate Dempsey, Kenneth Nolan and Alan Jude Moore alongside local people and community activists from the North Dublin area, this series offers a unique and diverse range of contributors.
Each week the featured poem will also commemorate a significant date in the calendar year fostering new and challenging perspectives into poems you thought you knew. The poems have been selected with the advice and support of Ireland's former Professor of Poetry, Paula Meehan.