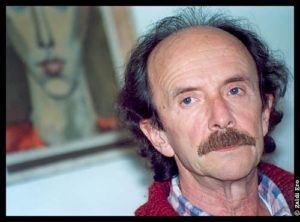 Written against the backdrop of an opressve regime under General Franco, Txoriak Txori (in English, A bird is a bird) stands in as a fierce expression of the pride the Basque people have for their culture. Originally written as a poem  by Artze, my guest on the show this week, Inaki Irigoien, reliably informs me that it was immortalized in song by Mikel Laboa. Living in Ireland for many years now, Inaki, a real life Euskaldunak, related Txoriak Txori in an irish context as an equivalent to Raglan Road or The Fields of Athenry in terms of its popularity. We chose Artze and Laboa's creation this week to celebrate Basque independednce but very interestingly from an Irish perspective, Inaki outlined for me the reason why peolpe were much more likely to celebrate Basque independence on Easter Sunday rather than late October. Listen back to find out!

Podcast: Play in new window | Download (Duration: 13:01 — 17.9MB)
Poem of the Week invites you to listen to contributors recite some of their favorite poems and talk about what these poems mean to them. Presented by Morgan O'Reilly, this podcast series, originally broadcast on Near FM 2017/18, features some of Ireland's most exciting new voices such as Jessica Traynor, Kate Dempsey, Kenneth Nolan and Alan Jude Moore alongside local people and community activists from the North Dublin area, this series offers a unique and diverse range of contributors.
Each week the featured poem will also commemorate a significant date in the calendar year fostering new and challenging perspectives into poems you thought you knew. The poems have been selected with the advice and support of Ireland's former Professor of Poetry, Paula Meehan.