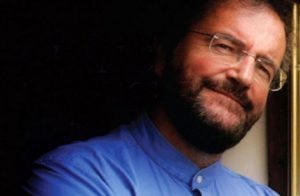 Celebrating World Mental Health Day, I'm joined by clinical psychologist Sarah Lynch to discuss John O Donoghue's poem Beannacht. The stigma surrounding mental health has only begun to abate in recent years in the Republic of Ireland and as someone on the frontline, Sarah left us with plenty of food for thought. What was really interesting (and pertinent for this series!) was Sarah's use of poetry in her sessions with clients, particularly John O Donoghue's poem Beannacht. Rooted in Gaelic culture and his own deep spirituality, poem has secrets hidden in every line. However, we never lose sight of mental health and Sarah is truly a fount of knowledge in that regard.

Podcast: Play in new window | Download (Duration: 12:09 — 16.7MB)

Subscribe: Android | Google Podcasts | RSS
Poem of the Week invites you to listen to contributors recite some of their favorite poems and talk about what these poems mean to them. Presented by Morgan O'Reilly, this podcast series, originally broadcast on Near FM 2017/18, features some of Ireland's most exciting new voices such as Jessica Traynor, Kate Dempsey, Kenneth Nolan and Alan Jude Moore alongside local people and community activists from the North Dublin area, this series offers a unique and diverse range of contributors.
Each week the featured poem will also commemorate a significant date in the calendar year fostering new and challenging perspectives into poems you thought you knew. The poems have been selected with the advice and support of Ireland's former Professor of Poetry, Paula Meehan.