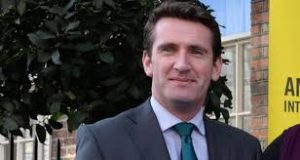 For this week's podcast, I sat down with Senator Aodhán O Ríordáin to discuss Irish language poetry, Irish language policy and the iconic Abbey Theatre founded in August 1904. As a former minister of State and as a former school principal, the Irish language is a subject Aodhán is well versed in and very passionate about. Not so well known is that the North Dublin Senator is the proud author of not one, but two Irish language plays which were both staged at the Galway Arts festival to critical if not popular acclaim. I had great fun getting to know the person behind the politician and for a former minister of state, Senator O Ríordáin isn't afraid of having a laugh at his own expense. Although always eager to chat politics myself, the chat was kept light and literary with Aodhán citing Chekhov as one of his main influences. This week's poem of the week is the first Irish language poem to be featured in the series and will be remembered by anyone who suffered through the Irish education system; An Chéad Drama by Johnny Choill Mhaidhc.

Podcast: Play in new window | Download (Duration: 15:21 — 21.1MB)

Subscribe: Android | Google Podcasts | RSS
About the Podcast
Poem of the Week invites you to listen to contributors recite some of their favorite poems and talk about what these poems mean to them. Presented by Morgan O'Reilly, this podcast series, originally broadcast on Near FM 2017/18, features some of Ireland's most exciting new voices such as Jessica Traynor, Kate Dempsey, Kenneth Nolan and Alan Jude Moore alongside local people and community activists from the North Dublin area, this series offers a unique and diverse range of contributors.
Each week the featured poem will also commemorate a significant date in the calendar year fostering new and challenging perspectives into poems you thought you knew. The poems have been selected with the advice and support of Ireland's former Professor of Poetry, Paula Meehan.