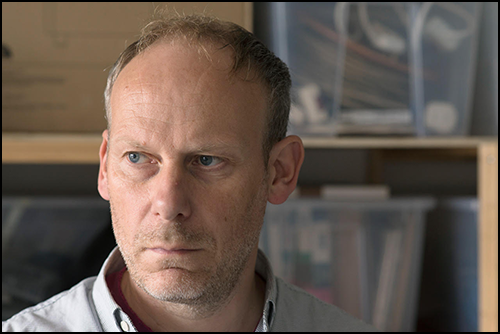 Podcast: Play in new window | Download (Duration: 41:22 — 95.0MB)
Subscribe: RSS
In this episode Ciarán meets visual artist Gerard Byrne who teaches at the Städelschule in Frankfurt, and the conversation rambles from Brecht to Beckett and Kasper König.
Gerard and Ciarán talk about the Städelschule and its place as one of the most influential art schools in Germany, and that having a collection of internationally renowned colleagues makes it an exciting place to work. They enjoy a typical Irish perspective, where cities like Copenhagen and Frankfurt are seen as 'continental' and therefore similar, because traditionally Ireland has been so Anglo-centric, and our models often come from the UK. On travel, they also note the difference in Germany train travel and where it can bring you to other interesting cities quickly and easily, and you just don't feel like that in Dublin.

They chat about Gerard not being a natural Germano-phile, but perhaps still with an early appreciation for Kraftwerk, as general left-field entity, but he does understand Germany as having a central role in the development of contemporary arts in the 20th Century. They wonder at the fact that visual art enjoys a more prominent place in Germany than in Ireland and the various socio-political reasons behind that, and Dokumenta in Kassel as a celebration of the importance of art in Germany, where even the taxi drivers want to talk about art.
Recommendations/items mentioned in this podcast:
Gerard is currently working with students from the Städelschule in the Goethe-Institute Irland's Return Gallery for the 60th anniversary celebrations, so look out for that.

Celebration of Joseph Beuys – Post-War Germany's most important artist.

A current exhibition at the Stadelmuseum devoted to Max Beckmann – one of Germany's most important Weimar artists. Beckmann taught at the school before being dismissed by the Nazi's. Here's a painting from the museum collection he really likes.
And for some German food recommendation have a look the Münster food Market: Wochenmarkt Münster: Der Film

Dokumenta is an exhibition of contemporary art which takes place every five years in Kassel.

Gerard's work is currently on view at the Kerlin Gallery.
This Podcast dives into the many colours of arts, language and life across cultures. St. Pauli fan and former Düsseldorfer Ciarán Murray and his guests explore the connecting moments of German and Irish life. What do musicians, dancers, artists, writers pick up from either culture? How are they inspired and enriched by the other? For all listeners who like to go and think beyond borders.