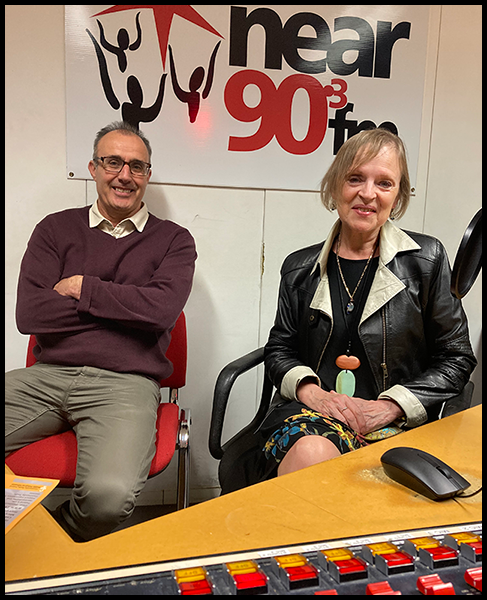 Podcast: Play in new window | Download (Duration: 54:16 — 74.9MB)
Subscribe: RSS
Ciaran chats to writer and publisher Elizabeth McSkeane about her Glaswegian upbringing, with pictures of the JFK, visits to Glasgow Celtic and St. Patrick's Day traditions. We hear Liz reading works by the Irish poet living in Germany, Jo Burns, from her latest collection of poetry Brink.
Liz has a passion for languages and different cultures. Feeling European, Irish and Scottish, it's a wonderful benefit to be so mobile in Europe as if it is one country. We hear about Samuel Beckett's time in Germany in the 1930's and the inspiration behind his most famous work Waiting for Godot. Liz tells us about her publishing company Turas Press and we get an insight into the running of a small publishing house.
Recommendations:
"A Stain Upon the Silence -Documentary on One": Radio documentary reflecting on Beckett's work, from the RTÉ archives, RTÉ Radio 1, 1991, produced by Peter Mooney, presented by Liz McSkeane. Includes interview with Walter Asmus, Director of the Schiller Theatre, Berlin who worked with Beckett for 15 years:
https://www.rte.ie/radio/doconone/646565-radio-documentary-samuel-beckett
"Two Men Contemplating the Moon", a painting by the 19th century German Romantic painter, Caspar David Friedrich, said to have inspired the visual image for the staging of "Waiting for Godot": https://www.metmuseum.org/art/collection/search/438417
"The Art of Losing" "L'Art de Perdre" by Alice Zeniter, trans Frank Wynne, winner of 2022 Dublin Literary Award
"Brink," poetry collection by Jo Burns, N Irish poet living in Germany whose work tackles themes of exile, history and contemporary life, with special reference to Germany and Ireland:
https://turaspress.ie/shop/contemporary-poetry-brink-by-jo-burns-engaging-with-the-most-urgent-questions-of-our-time/
"Canticle", historical detective novel set in 16th/17th century Spain by Liz McSkeane, writer and publisher:
https://turaspress.ie/shop/canticle-by-liz-mcskeane-historical-detective-novel-set-in-spain/
"In The Dark" by Anamaría Crowe Serrano, a novel set during the Spanish Civil War, a tale of the daily hardships of survival during war. Two sisters and their families
on different sides of the conflicts try to bury their differences – but only one knows there is a deserter from the war, hidden in the house.
https://turaspress.ie/shop/in-the-dark-spanish-civil-war-novel/
This Podcast dives into the many colours of arts, language and life across cultures. St. Pauli fan and former Düsseldorfer Ciarán Murray and his guests explore the connecting moments of German and Irish life. What do musicians, dancers, artists, writers pick up from either culture? How are they inspired and enriched by the other? For all listeners who like to go and think beyond borders.