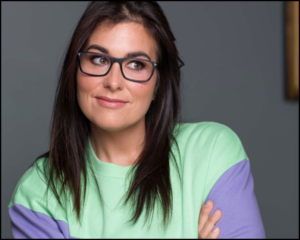 Podcast: Play in new window | Download (Duration: 51:51 — 119.1MB)
Subscribe: RSS
On this month's edition Ciaran is joined by actor, director and award winning writer for stage and screen, Stefanie Preissner. Stefanie was born in Germany but moved to Ireland as a child, and grew up in County Cork.
Stefanie chats with Ciaran about feeling German, reminisces about the scharfes S β and gets quite possessive about Ritter Sport Schokolade.
Stefanie was diagnosed with autism as an adult and she explains why girls and women are harder to diagnose. She chats about visiting Germany and how the German way of life makes her feel comfortable.
The Irish relationship with alcohol comes under scrutiny and Stefanie explains how she explores this relationship in her hit TV show Can't Cope, Won't Cope.
Stefanie talks about the differences between writing for TV and stage, and tells us some of her experiences in German theatres, including durational theatre. Check out her podcast Basically which seeks to explain complex things in a simple way!
Recommendations not mentioned in the podcast:
Book:
All Her Fault by Andrea Mara
Harry Potter by J.K. Rowling
Film:
Whale Rider
The Lives of Others
Food:
Camile Thai
Clonakilty Black Pudding
This Podcast dives into the many colours of arts, language and life across cultures. St. Pauli fan and former Düsseldorfer Ciarán Murray and his guests explore the connecting moments of German and Irish life. What do musicians, dancers, artists, writers pick up from either culture? How are they inspired and enriched by the other? For all listeners who like to go and think beyond borders.