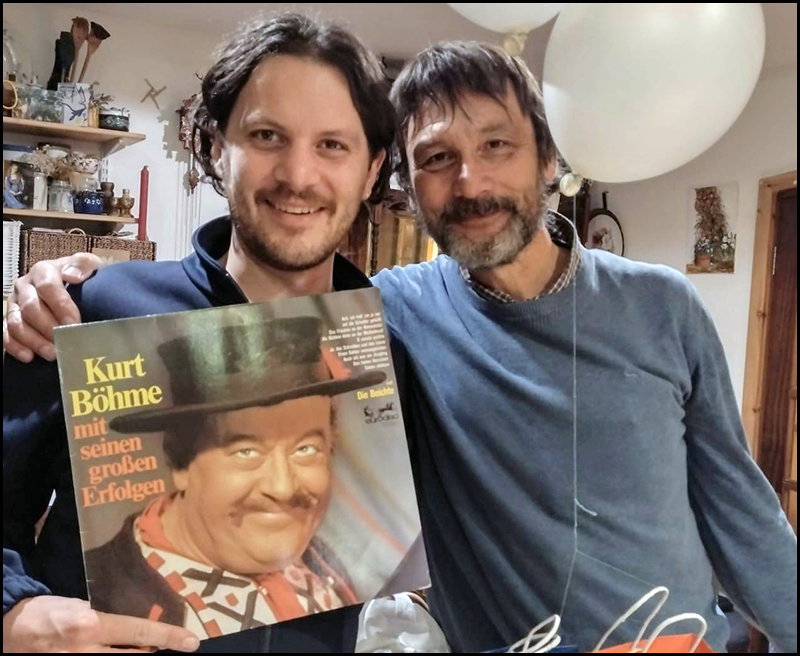 Podcast: Play in new window | Download (Duration: 56:20 — 77.7MB)
Subscribe: RSS
This episode features comedian Killian Sundermann and teacher and assistant principal Helmut Sundermann of the Deutsche St Killian in Dublin. Father and son are bringing us on a journey of their influences for a shared love for music, humour, football and food. We hear about the time Helmut met his wife Fiona, living in Wales and England before moving to Ireland and that Fiona's mother Johanna is originally from Germany herself, having moved to Ireland post World War II.
Helmut and Killian talk about the beauty of different regions and small / medium size towns- Why move to Berlin when you can move to Badenkirchen or Gelsenkirchen? and the variety of accents, dialects and disposition of people- and local beer- that comes with different regions.
Helmut is reading Inschrift by Erich Fried, a paper clipping of the poem found in the belongings of father Karl Heinz who was an architect and town planner in Aachen, rebuilding destroyed areas and working in heritage preservation.
Having their own secret language allowed for father and son to communicate in their own way from an early age. They talk about the German sense of humour, music in both countries and German films. Cultural observations and its differences are the focus of Killian's online comedy, check out Kuchen.
Recommendations Killian:
Film/ TV:
Victoria
https://en.wikipedia.org/wiki/Victoria_(2015_film), A film shot in one single continuous take about a young Spanish woman who meets four Berliners on a night out. Incredible crime drama with high suspense. The only reason it didn't win an oscar was because it had too much english dialogue to be eligible.
Barbara
https://en.wikipedia.org/wiki/Barbara_(2012_film), A film set during East/West partition. A nurse from East Germany is sent to a hospital in a rural town after trying to escape. Petzold gives a more nuanced view of East Germany than we usually see in film representations. Great performance by Nina Hoss. Petzold is one of the leading filmmakers of the so-called Berliner Schule of filmmakers who I wrote my dissertation on.
Goodbye Lenin
https://en.wikipedia.org/wiki/Good_Bye,_Lenin! It's probably already been recommended but if people haven't seen it yet, this classic is a must watch.
Metropolis, 1927
https://en.wikipedia.org/wiki/Metropolis_(1927_film), At its time the most expensive film ever made. A German expressionist masterpiece of early cinema. Compulsory viewing for anyone interested in the history of cinema.
Dark (on Netflix)
https://en.wikipedia.org/wiki/Dark_(TV_series) Great time travel drama set in a small German town. Strong Stranger Things vibes for fans of the US series.
Die Sendung mit der Maus
https://kinder.wdr.de/tv/die-sendung-mit-der-maus/index.html For Kids. Wonderful educational entertaining TV show.
Music:
BAP
https://en.wikipedia.org/wiki/BAP_(German_band), Great Cologne band we always play in our haus. Aff Un Zo their best album.
CAN
https://en.wikipedia.org/wiki/Can_(band), Maybe one of my favourite bands. Their album Tago Mago is incredible. Drummer Jackie Libezeit's drumming on Halleluwah is something to behold.
Torch- Kapitel 1
https://de.wikipedia.org/wiki/Torch_(Rapper), Great german rap biopic song
Food:
Käsespätzle
https://de.wikipedia.org/wiki/K%C3%A4sesp%C3%A4tzle
Dampfnudeln
https://en.wikipedia.org/wiki/Dampfnudel
Beer:
A delicious Koelsch from Cologne
Altbier from Dusseldorf
https://en.wikipedia.org/wiki/Altbier Best drunk in a bar from a tiny glass next to the large cylinders which brewed it, the air thick with the sweet smell of boiling hops.
Comedy:
Henning Wehn
https://en.wikipedia.org/wiki/Henning_Wehn
Otto Waalkes
https://en.wikipedia.org/wiki/Otto_Waalkes
Recommendations Helmut:
Films, TV, Directors:
Die Brücke by Bernard Wicki
https://en.wikipedia.org/wiki/Die_Br%C3%BCcke_(film)
TV series So weit die Füße tragen by Fritz Umgelter
https://de.wikipedia.org/wiki/So_weit_die_F%C3%BC%C3%9Fe_tragen_(1959)
Die Ehe der Maria Braun, Lola, Rainer Werner Fassbinder
https://en.wikipedia.org/wiki/Rainer_Werner_Fassbinder
Wim Wenders
https://en.wikipedia.org/wiki/Wim_Wenders 'Alice in den Städten' and later 'Der amerikanische Freund' starring Bruno Ganz and Dennis Hopper, set in the main in Hamburg (also Paris and New York). It is based on a thriller by Patricia Highsmith (Ripley's Game). At the end of the 80ies 'Der Himmel über Berlin' (Wings of Desire) (starring among others Peter Falk 'Colombo') gives a fabulous portrayal of the divided city of Berlin (from a western perspective) just before the Mauerfall.
Jenseits der Stille by Caroline Link
https://en.wikipedia.org/wiki/Beyond_Silence_(1996_film)
Sophie Scholl- die letzten Tage
https://en.wikipedia.org/wiki/Sophie_Scholl_%E2%80%93_The_Final_Days
Tschik by Fatih Akin
https://en.wikipedia.org/wiki/Fatih_Akin, During my time in Ireland, I have watched with pleasure and interest many German movies shown by the Goethe Institut or as part of the education programme of the IFI Dublin including, among others.
Heimat by Edgar Reitz
https://en.wikipedia.org/wiki/Heimat_(film_series), Only recently, for a special birthday, my brother Manfred gave me a box set of 'Heimat' by Edgar Reitz as a present and I find it excellent.
Drei Haselnüsse für Aschenbrödel
https://de.wikipedia.org/wiki/Drei_Haseln%C3%BCsse_f%C3%BCr_Aschenbr%C3%B6del, A co-production between the DEFA film studios of the DDR and the Czechoslovakian Film studios from 1973. Sadly the beautiful and charming actress Libuše Šafránková, who acted the main main part in the film, passed away in June this year. The scenery in the film, the music, the costumes, the characters, the setting (Schloss Moritzburg) all make it perfect Advent-or Christmas viewing.
Authors, Actors, Comedy
Carl Zuckmayer Der Hauptmann von Köpenick
https://de.wikipedia.org/wiki/Der_Hauptmann_von_K%C3%B6penick_(Zuckmayer) It was turned into a very successful film in the 1950ies with the much-loved German actor of the time called Heinz Rühmann. This is a kind of 'Volksstück' with a lot of humour, but at the same time takes a satirical view of the idea of 'obedience', 'following orders` and respect for men in 'uniforms'! It also depicts the situation of the poor and disadvantaged population in Berlin at the turn of the last century.
Carl Zuckmayers memoir 'Als wär's ein Stück von mir'
https://de.wikipedia.org/wiki/Als_w%C3%A4r%E2%80%99s_ein_St%C3%BCck_von_mir, gives an insight into the cultural and intellectual life in Germany in the first half of the 20th century: growing up in the Rhineland(Mainz), participating in the First World War, describing the world of theatre and film in Berlin of the 1920ies, as well as Salzburg and Vienna of the 1930ies followed by emigration to the United States and eventual return to Europe (Switzerland). There are many perceptive descriptions and appreciations of fellow artists, among others Stefan Zweig, Ödon von Horvath, but also Bertholt Brecht, with whom Zuckmayer was connected through a friendship from his beginnings as a playwright in Munich.
Willy Millowitsch
https://en.wikipedia.org/wiki/Willy_Millowitsch
Loriot
https://en.wikipedia.org/wiki/Loriot
Music:
Die Moorsoldaten from the NDR Radio station, https://www.ndr.de/geschichte/chronologie/Seit-85-Jahren-ziehen-die-Moorsoldaten,moorsoldaten109.html
Places of interest:
Haus Hohe Pappeln
https://www.klassik-stiftung.de/haus-hohe-pappeln/ For our 30th wedding anniversary we went on a trip to Erfurt and Weimar. In Weimar we hired bicycles and cycled through the lovely Ilmenau. The house of the architect and designer Henry van der Velde 'Haus Hohe Pappeln' was a highlight for me!
Felix Nussbaum Museum
https://www.archdaily.com/135002/felix-nussbaum-museum-daniel-libeskind On a recent trip to visit my brother in Münster we drove to Osnabrück and went to the Felix Nussbaum Museum (designed by the well-known German architect Liebeskind).
Osnabrück
https://www.osnabrueck.de/english/city-of-osnabrueck/osnabrueck-city-of-peace
together with Münster, saw the signing of the Westphalian Peace treaty of 1648 that ended the devastating 30 years war. Erich Maria Remarque, author of the famous novel 'Im Westen nichts Neues' about the First World War was also born in Osnabrück.
Town Leer
https://leer.de/, I also loved a visit to Leer – a lovely town on the river Ems in the very north-western corner of Germany on the river Ems close to Holland and near the North Sea coast. It is a tea drinking area with a lovely blend of black, the German answer to Barrys, called 'Bünting'.
Food, beverages
Pinkus Müller
https://www.pinkus.de/brauerei/, a very popular traditional pub/restaurant in Münster with a brewery attached which is very popular in the locality and beyond.
Frueh Koelsch
https://www.frueh.de/, , I lived for nearly 10 years in Cologne and would have spent many enjoyable evenings and times in typical Cologne pubs such as the Brauhäuser of Früh, Mühlens, Päffgen and many more. In the very first year of my stay in Köln I spent many evenings in the lovely pub 'Em Golde Kappes' on Neusser Straße in Köln Nippes with my brother Werner.
Bürgerspital
https://www.buergerspital-weinstuben.de/trinken/ As far as wine is concerned I enjoyed pleasant evenings tasting delightful Frankenwein in the Juliusspital and Bürgerspital in Würzburg.These vineyards grow and sell Frankenwein and contribute a portion of their profits to running and supporting charitable institutions, hence the name `Spital`.
Weihnachtsgebäck- German Christmas biscuits
I also attach recipes my mother-in-law Johanna used for Weihnachtsstollen (in original handwriting). I find Vanillekippferl one of the easier Plätzchen to make and have often baked them in school with students.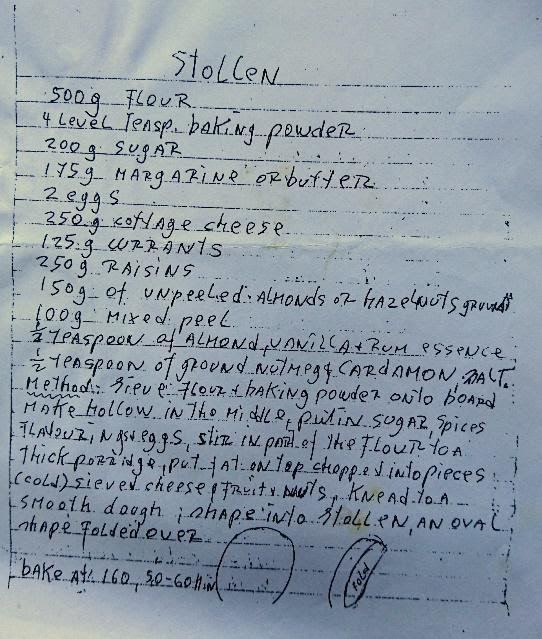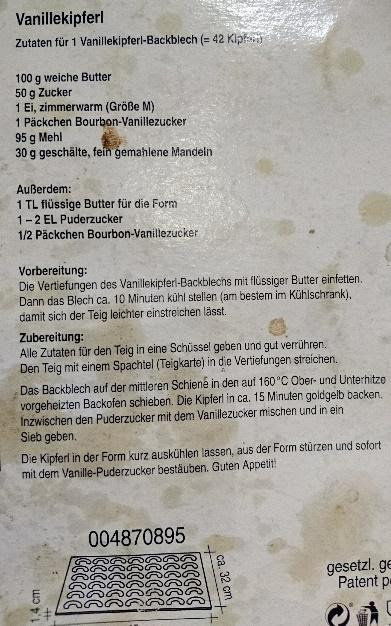 This Podcast dives into the many colours of arts, language and life across cultures. St. Pauli fan and former Düsseldorfer Ciarán Murray and his guests explore the connecting moments of German and Irish life. What do musicians, dancers, artists, writers pick up from either culture? How are they inspired and enriched by the other? For all listeners who like to go and think beyond borders.