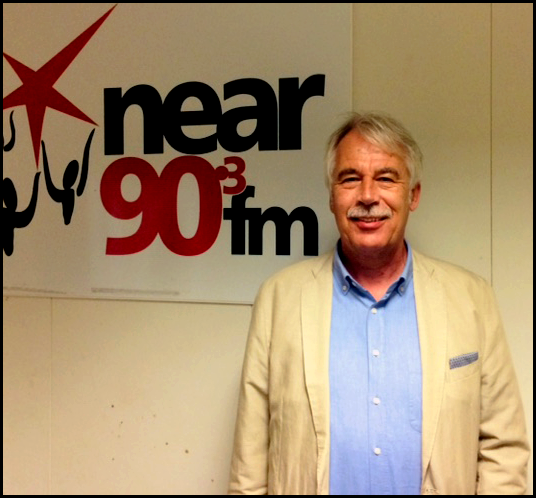 Podcast: Play in new window | Download (Duration: 48:43 — 111.9MB)
Subscribe: RSS
​In this episode Ciarán chats to his former lecturer and Professor of Modern Languages Dr. Arnd Witte. We first hear about Arnd's origins in Hiddigwardermoor where the one-teacher school had no running water. The conversation turns to the origin of Arnd's love of the English language coming not from literature but from Jim Morrison and the Rolling Stones.
Arnd lectured in Nigeria, where he met his wife. He saw a play there by Wole Soyinka, the first black African Nobel prize winner, and Soyinka himself was there. He is interested that some African commentators believe that the English language is a cultural time bomb in Africa, with it marginalising local languages and even pushing them to extinction. Arnd talks about his children being part Nigerian, part German, and part Irish and having a fluid cultural identity. The importance that language plays in cultural understanding and identity is a key theme in Arnd's research.
Ciarán and Arnd chat about the Catholic Church's influence in Saint Patrick's College, Maynooth when they were there together in the early 1990s, how Arnd replaced a lecturer from the DDR. Reflecting on his many years working at 3rd level he laments changes that have brought about a type of commodification of education.
Arnd reads from Hugo Hamilton and Georg Trakl.
Arnd Witte's Recommendations

Food and Drink:
Grünkohl mit Pinkel (curly kale with a special sausage), only available in the area around Oldenburg and Bremen in winter and often served on what is known as "Kohlfahrt".
And Jever Pilsenser (from the town of Jever) to quench the thirst.

Music:
Ton, Steine, Scherben: Keine Macht für niemand
Udo Lindenberg: Cello
Hannes Wader: Es ist an der Zeit (based on Eric Bogle's The Green Fields of France)
Christy Moore: Ordinary Man

Books:
Uwe Timm: Morenga
Peter O. Chotjewitz: Der dreißigjährige Friede
Anna Burns: Milkman
Hugo Hamilton: The Speckled People
Wole Soyinka: Aké: The Years of Childhood
Chinua Achebe: Things fall apart
Georges-Arthur Goldschmidt: Der versperrte Weg

Short Films:
Yu Ming Is Ainm Dom
https://www.youtube.com/watch? v=JqYtG9BNhfM

Schwarzfahrer
https://www.youtube.com/watch?v=XFQXcv1k9OM

Ausstieg rechts
https://www.youtube.com/watch?v=wgSTIJWvh70
This Podcast dives into the many colours of arts, language and life across cultures. St. Pauli fan and former Düsseldorfer Ciarán Murray and his guests explore the connecting moments of German and Irish life. What do musicians, dancers, artists, writers pick up from either culture? How are they inspired and enriched by the other? For all listeners who like to go and think beyond borders.